Pros and Cons of the 4-daegang biketrails



Back to Bicycle Route between Seoul and Busan
Advantages and disadvantages of the entire use of the 4-daegang biketrails in relation to using the existing roads network in Korea for long distance bicycle touring
the Pros
The routes are well signposted (see pictures 1 and 8 below) with clear signs or painted marks on the road surface. This makes consulting maps and cue sheets unnecessary while on the road. But: be aware of the possibility of missing signboards, a poblem that will become worse in the course of time
Whenever the bikepath goes right along the river, the terrain is flat
Much effort is taken to separate the bike trail from the roads used by motorized traffic
It's fun to collect stamps at designated locations in a specially issued passport, with the goal to win an award and medal after having collected a complete series of stamps on each trail.
the Cons
Most of the new paths are made of concrete, resulting in a bad bumpy surface
The routes avoid going through towns and villages, which may be such a welcome interlude during bike trips
There is no consideration for a gentle grade of climb or descent; at some places it is over 20% and there are real safety hazards (especially for bike tourists with loaded bikes)
In some stretches there are many bends at right angle, which hamper a smooth steady progress of cycling
Distances are in general longer via the bike trails than when using existing roads
There are hardly signs to destinations other than direction to the end of the bike trail
The landscape is mostly riverviews and newly developed parks and becomes boring at times
At some places the trail is unpaved (see pictures 3 and 5 below)
At several places the path is blocked due to constructions and obstructions. Detours are often ill signposted (and notices are in Korean only). See picture 10 below
The use of iron strips and wooden planks at some places makes the path slippery during rainfall

Some pictures of the Seoul - Busan "4-daegang" bike route: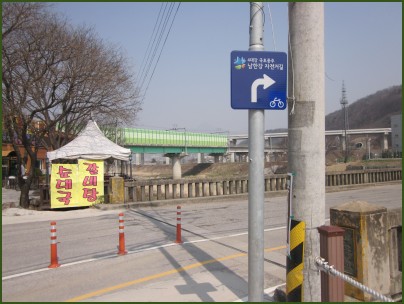 1. 4-daegang signboard near Okcheon, Han River trail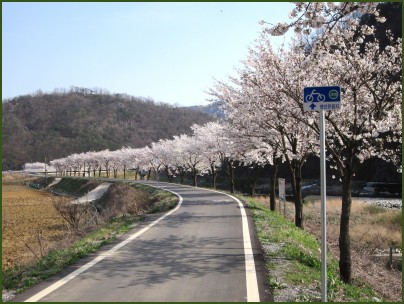 2. Nice rural lane near Maseong, Mungyeong-si, Saejae trail

3. Sandy path over a mountain near Namji, Nakdong River trail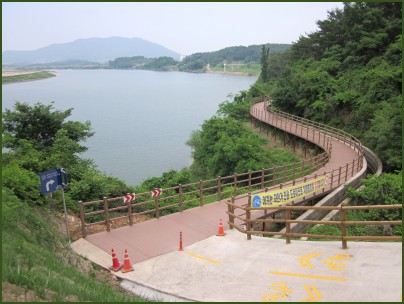 4. Near Guji (Daegu City), Nakdong River trail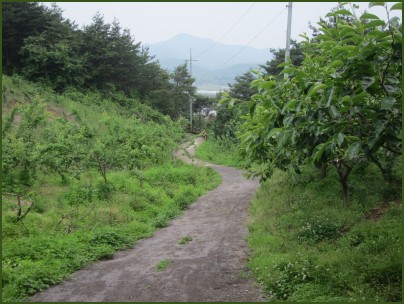 5. The trail can also be like this: near Ibang, Changnyeong, Nakdong River trail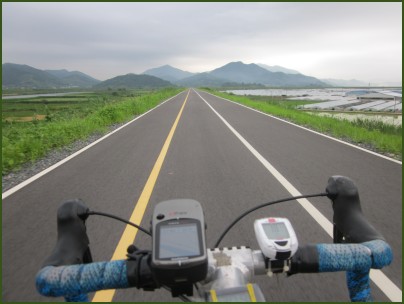 6. Example of perfectly paved path near Samnangjin, Nakdong River trail

7. After 100 years of exclusive use of the river bank near Wondong, the trains now have to share this privelege with bicycles. Nakdong River trail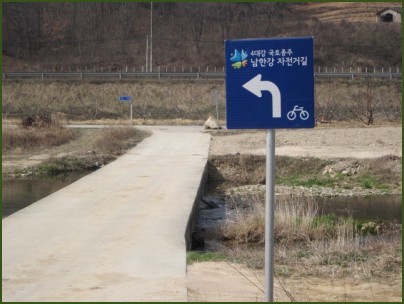 8. Use of rural lanes near Angseong, Chungju City, Han River trail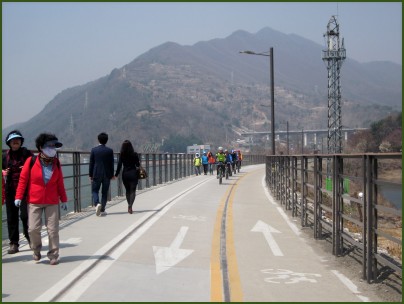 9. Use of old railway track near Yangseo, Yangpyeong-si, Han River trail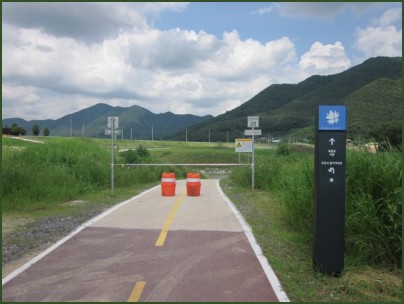 10. Unfortuntely this is not uncommon: path is blocked but no pre-warning, no detour guidance. Nakdong River trail